Members of the Elijah Board of World Religious Leaders
Sheikh Muhammad Nur Abdallah, USA
Sheikh Mohammed Nur Abdullah, Imam and director for the Islamic Foundation of Greater St. Louis, came to the United States from Sudan in 1978. Sheikh Nur Abdullah is the past chairman of the ISNA Fiqh Council and has been a member of the Fiqh Council of North America since 1982. Sheikh Muhammad Nur Abdullah now lives in St. Louis, Missouri, and is currently the President of the Islamic Society of North America (ISNA).
Sayyed Jawad al-Khoei, England
Sayyed Jawad al-Khoei is the son of the late Sayyed Muhammad Taqi, and grandson of the late Grand Ayatullah Sayyed Abdul Qasem al-Khoei. After the first Gulf War, the Shi'a uprising against Saddam Hussein's regime, and following the tragic death of his grandfather, Sayyed Jawad was forced to leave Iraq for the United Kingdom due to the political unrest and the constant dangers that he and his family faced. Sayyed Jawad's father was also tragically murdered along with members of his family by the Ba'thist regime in summer 1994. He has studied Shi'a Islamic theology at Al-Kadhem University in Qum, Iran. At present, Sayyed Jawad dedicates most of his time between the United Kingdom and Iraq carrying on the work of his father and grandfather and fulfilling his responsibilities as Assistant Secretary-General of the Al-Khoei Foundation.
Dr. Yihya Mossa Basha, USA
Dr. Basha is the current Chairman of the Muslim American Coalition. He was the former Chairman of the American Muslim Council (AMC), a national non-profit organization with headquarters in Washington, D.C. His accolades also include Board Member of the Board of Governors for the Arab American Institute, President of the Islamic Medical Association- Midwest Region, and former President of the Cultural Association of Franklin, Michigan.
Grand Mufti Dr. Mustafa Ceric, Bosnia
Grand Mufti Dr. Mustafa Ceric is the Reis-ul-Ulema – President of the Council of Ulema – in Bosnia-Herzegovina. He graduated from Al-Azhar University in Cairo and afterwards accepted the position of Imam at the Islamic Cultural Center in the United States. During his tenure at the Center, he earned a Ph.D. in Islamic Theology at the University of Chicago. In 1987, he returned to his homeland and became a practicing Imam in a learning center in Zabreb.
Imam Plemon El Amin, USA
Imam El Amin has served for the past 24 years as the Resident Imam of the Atlanta Masjid of Al-Islam. He worked closely as an aide and supporter of Imam W. Deen Mohammed and his Ministry for 33 years and takes his place on the EBWRL following the latter's death in 2008. Imam El Amin holds an undergraduate degree from Harvard University. His insightful and hands-on approach to leadership has helped develop the Atlanta Masjid into one of the largest and most progressive Muslim communities in the US.
Imam Umer Ahmed Ilyasi, India
Umer Ahmed Ilyasi is the President of the All-India Association of Imams and Mosques, which represents more than half a million Imams and 150 million Muslims, the world's second largest Muslim population. He travels widely, meeting people belonging to all shades of opinion and denominations. His open-minded and flexible approach has earned him goodwill around the world. He is a strong believer in dialogue.
Dr. Muzaffar Iqbal, USA
Dr. Iqbal is the founder-president of Center for Islam and Science, Canada, and editor of Islam & Science, a semi-annual journal of Islamic perspectives on science and civilization. Born in Lahore, Pakistan, he has lived in Canada since 1979. He holds a Ph.D. in chemistry (University of Saskatchewan, Canada, 1983), but most of his published work is related to Islam and various aspects of Islamic civilization, including the Islamic scientific tradition. Dr. Iqbal is the editor of the Integrated Encyclopedia of the Qur'an that was launched in July 2013, the first English encyclopedia of the Qur'an from a Muslim point of view.
Sheikh Muhammad Hisham Kabbani, USA
A prominent scholar of mainstream, traditional Islam, Shaykh Muhammad Hisham Kabbani has spent his life spreading the teachings of peace, tolerance, respect and love that are the message of Islam throughout the world. He is the Founder and Chairman of the Islamic Supreme Council of America, the Chairman of American Muslim Assistance relief organization, the Founder of Kamilat, an international Muslim women's organization, the Chairman of the As-Sunnah Foundation of America, and the Founder and President of Muslim Magazine, a top-rated, moderate, English-language Islamic newsmagazine.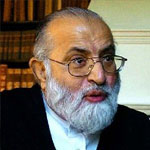 Imam Dr. Abduljalil Sajid, UK
Imam Sajid is the Chairman of Muslim Council for Religious and Racial Harmony (MCRRH) and one of the founders of the Muslim Council of Britain, the largest umbrella organisation of Muslims in the UK. Imam Sajid also serves as President of the UK Chapter of the World Conference of Religion for Peace, the Deputy President of European World Conference of Religion and Peace, President of the National Association of British Pakistanis and a member of the Central Working Committee of the Muslim Council of Britain.
Yahya Cholil Staquf, Indonesia
Yahya Cholil Staquf is secretary general of the world's largest Muslim organization, the Nahdlatul Ulama (NU) Supreme Council, Indonesia.
Dr. Ahmed Taoufiq, Morocco
Dr. Ahmed Taoufiq is Morocco's Minister of Habous (endowments) and Islamic Affairs. He has served as the Director of both Morocco's Institute of African Studies and the Generale Library. He is a renowned historian, focusing on nineteenth century Moroccan society, as well as a certified archaeologist. Dr. Taoufiq is also a distinguished poet, having published several works in tandem with Jarat Abi Mussa.
Dr. Muhammad Suheyl Umar, Pakistan
Muhammad Suheyl Umar is the Director of Iqbal Academy Pakistan and his area of specialty and interests include Sufism as well as the thought of Muhammad Iqbal and the intellectual history of the Indian subcontinent from Shah Waliullah to Iqbal. He is the Founder-Editor of Riwayat, a scholarly Urdu journal; Editor, Iqbal Review, a quarterly journal, published alternately in Urdu and English (as well as in Persian, Arabic and Turkish) focusing on Iqbal studies in addition to Islamic Studies, Comparative Religion, Philosophy, Literature, History, Arts and Sociology.
---

Past Members of the Elijah Board of World Religious Leaders and Programs
Dr. Muhammad Zaki Badawi, UK
A member of the Elijah Board of World Religious Leaders, Shaikh Mohammed Aboulkhair Zaki Badawi KBE was a prominent Egyptian Islamic scholar, community activist, and promoter of interfaith dialogue. He was the principal of the Muslim College in London, which he founded in 1986. He was a frequent writer and broadcaster on Islamic affairs, and was made an honorary Knight Commander of the British Empire (KBE) in 2004. Badawi was also appointed a Knight Grand Cross of the Royal Order of Francis I in recognition of his interfaith work. Dr. Badawi passed away in 2006.
His Royal Highness Prince El Hassan bin Talal
Prince El Hassan bin Talal, a former member of the Elijah Board of World Religious Leaders, is the youngest son of King Talal and Queen Zein El Sharaf. Prince Hassan has founded and is actively involved in a number of Jordanian and international institutes and committees, such as The Arab Thought Forum, Higher Council for Science and Technology, and the Royal Institute for Interfaith Studies.
W. Dean Mohammad, USA
Imam W. Dean Mohammad was a tireless laborer for the interests of peace and justice in our world and a member of the Elijah Board of World Religious Leaders. He worked for and realized direct and genuine dialogue between people of all races and religions. Outdistancing the purveyors of narrow race concerns, Imam Mohammed's leadership built upon a solid religious foundation with concrete plans for the strengthening of families and communities. W.Dean Mohammad passed away in 2008.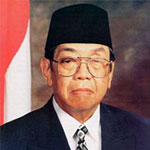 Dr. Abdurrahman Wahid, Indonesia (1940-2009)
Abdurrahman Wahid was the President of the Republic of Indonesia. He was know affectionately as Gus Dur and served on the Elijah Board of World Religious Leaders and other numerous organizations dedicated to reconciliation of conflict. In politics, he was a long-serving president of the Nahdlatul Ulama and the founder of the National Awakening Party (PKB). He was Rector of Darul Ulum Univeristy in East Java and President of the Non Violence Peace Movement. In 2003, Dr. Wahid was awarded the World Peace Prize. He passed away in 2009. In 2015 and 2017, Indonesian delegations visited Israel in honour of his commitment to peace between Israel and her neighbours and were hosted by Elijah.
Dr. Adamou Ndam Njoya, Cameroon
Dr. Adamou Ndam Njoya currently serves as Minister Plenipotentiary in Cameroon's government and President of the Cameroon Democratic Union (CDU) political party. He has worked at the executive level with UNITAR, UNESCO, and the Islamic Conference Organization (ICO). From 1994 to 1999, he served as President of the World Conference on Religion and Peace and currently holds a position the organization's International Governing Board. He has published several academic books, articles, poems and four novels. Dr. Njoya is a recipient of Belgium's Great Cross of the Order of Leopold award. Dr. Adamou Ndam Njoya passed away in 2020.
Dr. Wahiduddin Khan, India
Dr. Wahiduddin Khan devoted his life to presenting Islamic teachings in the style and language of the present day. He is the author some two hundred books in India and abroad, including Al-Islam Yatahdda (Modern Challenges), now accepted as a standard work on Islamic position on modern thought. Dr. Wahiduddin Khan was also the founder of the Islamic Centre, India's vanguard Urdu Islamic Institution, which has done much to awaken in Muslims a new awareness of their religion and social responsibilities. Dr. Khan passed away in 2021.
---

Additional Leaders Who have Participated in Elijah Events
Dr. Nazeer Ahmed, USA
Dr. Nazeer Ahmed is a scientist, community leader and historian. Currently, he holds several positions. He is a Director, World Organization for Resource Development and Education, Washington DC. He is Executive Director of the American Institute of Islamic History and Culture in California (www.historyofislam.com) and is author of a two volume book Islam in Global History. His translation of the Qur'an into easy American English has been very popular with English speaking readers He is the founding president and Chief Mentor for RankStudent.com, a global initiative to bring digital science education to disadvantaged children around the world. He is a former parliamentarian and is currently a member of the State Knowledge Commission in Bangalore, India whose function is to transform that state into an advanced knowledge based society. Dr. Ahmed holds a Ph.D. from Cornell University, MS and Ae.E. degrees from the California Institute of Technology, MBA from Rider University and BE degree from the University of Mysore.
Sheikh Mohammed Mohammed Ali, UK
Sheikh Mohammed Ali is a Shiite scholar of Islamic theology and history and mechanical engineer by training, holding BSc, MA,and Phd degrees. He is a member and leader of the National Consensus Alliance, the Iraqi Reconstruction Group, Forum 2020, and other NGOs. An Iraqi by birth and frequent visitor to Iraq, he is currently a resident of the United Kingdom. He has lectured in conferences around the world and has vast experience within UN agencies in New York and Geneva. Sheikh Ali is a human rights activist.
Imam Feisal Abdul Rauf, USA
Feisal Abdul Rauf is an American Imam of note. He is Sufi by orientation, a thinker and author, a peace activist and a long term practitioner of interfaith dialogue.
Sheikh Abdelsalam Manasrah
Secretary of the Supreme Sufi Council of the Holy Land and Head of the Qaddariya Sufi Order.


Sheikh Taisir Tamimi
Director of Shari'ah Courts, the Palestinian Authority.


Imam Muhammad Siddeeq, USA
Imam Muhammad Siddeeq is a long time Muslim American pioneer. Professionally a biologist, medical researcher and teacher, he became Muslim under the leadership of Imam Mohammed's father, the late Hon. Elijah Muhammad. Imam Muhammad Siddeeq has held many positions in the Muslim community of the United States and has been mentor to newly converted and young Muslim men, many who have been released from prison.