Wisdom Newsletter | October 2016
In this newsletter:
1. Praying Together in Jerusalem
2. Your Input Sought
3. The President's Interfaith Initiative
4. Sharing Wisdom
===========================================
1. Praying Together in Jerusalem
On October 29th 2015, 80 people gathered at Jaffa Gate in the wall of the Old City of Jerusalem in order to pray side-by-side. The group included Christians of all denominations, Jews from across the spectrum and one Muslim. Considering the violence that had plagued the city in the preceding weeks, it was remarkable that so many turned up to publicly display their commitment to peaceful coexistence and conviction in the power of prayer.
Praying Together in Jerusalem is the innovation of the Elijah Interfaith Institute and our partner, Tantur Ecumenical Institute. The idea is consistent with Elijah's principle, one of our Principles of Faith: – We believe in the power of prayer and that people of different faiths praying side-by-side is a way of changing the world. It is more than a symbol; it is a joining of spiritual forces.
In line with our vision of HOPE, each gathering begins with a small teaching from one or more of the religious traditions represented. We then pray evening prayers side-by-side, each group according to their liturgy. On completion of the prayers, we come together again for final circle of song and meditation.
Our vision of masses of people publicly displaying their adhesion to the concept of the power of prayer has not been fully realized yet. One of the biggest challenges has been to find a place where all participants feel safe to join us. In this city, where politics, identity and religion are totally intertwined, it can be dangerous to demonstrate one's commitment to living in harmony. In our first six meetings, which took place at the end of every month at Jaffa Gate, we had never had more than three or four Muslim participants. Our seventh meeting took place in the grounds of Tantur. There, we had more than 70 Muslims join us to pray. More details of this meeting can be found here.
Consequently, we moved the prayer venue to less public spots, including Mt Zion, a place holy to the three Abrahamic religions. Gradually, we built our cohort of Muslim participants.
On September 29th this year, we had our 12th gathering, marking a year of side-by-side prayer on the last Thursday of every month. For the first time, we were hosted by new partners, Kids4Peace. The venue was a roof-top inside the Old City, on the seam of the Jewish, Muslim and Christian Quarters. Walking from Jaffa Gate to the venue was a beautiful experience in itself. The numbers of participants were swelled by the young people and for the first time, a young Muslim woman delivered one of the teachings to open the event. The Muslim prayers were led by a young man who explained the content and ritual to others. Kids4Peace is not a religious organization and there were fears that its members would not be interested in interreligious activity but the opposite proved to be true. Particularly the Muslim members were proud to share aspects of their faith.
As the sun set and participants finished their prayers and joined the final circle, the sense of sanctity was tangible. Everyone felt that we had been part of a sacred moment in the history of Jerusalem. Our voices were raised in prayer from the rooftop in Jerusalem, not in competition with one another but in a quest for harmony.
Praying Together in Jerusalem is now entering our second year and gradually becoming a movement, bolstered by the positive response of those who attend and the growth in numbers of participants. We urge you to join us, by praying side-by-side in your locality at sunset on the last Thursday of the month. Send us your photos and we will add them to our website and Facebook page, showing the world the power of prayer.
—————
2. Your Input Sought
Next month (November, 2016), the Elijah Board of World Religious Leaders will convene for its 7th meeting. The meeting will mark a turning-point in the history of the Elijah Interfaith Institute, as we explore how to implement the next phase of the organization's development, moving "From Scholar to Street" and taking the theological work that has characterized Elijah until now into the community.
As readers of our Wisdom newsletter, you are likely familiar with Elijah's particular way of approaching interfaith and how learning, based on academic foundations, and the implementation of a spiritual vision, inform its activities. As we seek to design with our leaders a program of outreach to the community, we would be grateful if you would respond to the following brief survey.
Please click here to begin the survey
—————
3. The President's Interfaith Initiative
reflections by Alon Goshen-Gottstein
I am just back from a visit to the USA. I was invited by Hartford Seminary and Georgetown University to take part in an international gathering of interfaith teachers and activists from all over the world who joined several hundreds of educators and students across US campuses. The occasion was President Obama's annual Interfaith Challenge for Colleges across the United States. Colleges have been invited/challenged by the President to bring interfaith work onto campus life in the form of service. The response has been massive and has created a culture of interfaith partnership across US colleges. This year, a group of international scholars and activists, myself included, were invited to share our experience and to learn from the US model.
I would like to share with readers of Wisdom two thoughts that grow from this meeting. The first is a deep appreciation for the depth of penetration of interfaith concerns into the US administration. We were addressed by Secretary of Education and high ranking leadership in the Secretariat of State. I came away with an impression that there is recognition of the importance of interfaith work for today's world in the highest level of the US administration and that this recognition translates into policy, education, and initiatives, such as the President's College Campus Challenge. There are few countries in the world that can boast similar awareness on high level. Perhaps Britain is the only county that can match the degree of high-level engagement I witnessed. In most parts of the world, interfaith is kept out of officialdom. Many countries that could benefit from deepening mutual understanding between members of the society have not begun to tackle the challenge. One hopes that regardless of the outcome of the election, this tradition will continue.
There was a second reflection that occupied my thoughts over the course of my visit. Increasingly, I was confronted by a growing reality of what, at the extreme, might be termed "interfaith without faith". Increasingly, interfaith is becoming a project of social cohesion, service, overcoming difference in society. The "faith" component of "interfaith" signals for many diversity, but not the specificity or engagement of faith itself. Consequently, you need not be religious to practice interfaith. If the focus is primarily service, all can join in, atheists, the "nones", those who simply want to do good, but do not do so enriched by the resources of their tradition. In one way, we encounter a beautiful movement for service and the enrichment of community. In another, we risk the depth dimension of true interfaith engagement that is a lot more than simply solving a current social problem. The ultimate value of interfaith, for me, has to do with the deepening of faith of all participants. It is a means of contributing to their spiritual life, and as a consequence of deepening their bonds of friendship and of contribution to society.
I noted that the international cohort had a lot more to do with religion than did the American presence and engagement with interfaith, as seen during these days in Washington. Priests, monks and religious leaders and religiously affiliated individuals were more visible among the international group. This might point to reciprocal lessons to be learned. Those coming from outside the US have a lot to learn about how interfaith can be integrated in a visible way within society and officialdom. At the same time, they can also pose a question as to how interfaith is best practiced. Perhaps combining the strengths of both approaches will yield a stronger interfaith reality globally.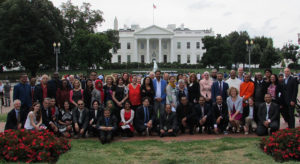 —————
Sharing Wisdom – A Jewish Diwali/New Year message
by Alon Goshen-Gottstein
This year three faith communities celebrate the new year in October – Jewish, Muslim and Hindus, some of whom understand Diwali in this light. Jews commemorate the creation of the world at the beginning of the new year. Light was the first created being, as told in Genesis 1. Hindus celebrate the principle of light during Diwali. Following is a teaching on light, by Rabbi Abraham Isaac Kook (1865-1935), sent as a new year's greeting and Diwali greeting.
The essential thing about light, as we see, is that it relates different creatures to one another. Darkness is separation, where every thing is unto itself, does not regard the other and is not connected to it in any relation. The owner of sight, that is made possible through light, gives the impression of the multitude of creatures all together in each one of the observing beings. There they are connected together to work to one god. God created many separate creatures, with distinct purposes. When each was alone unto itself, that is darkness. Following that he created an ordered and united world, where each part is connected to the other, and those that were separated had come close and united to one great and exalted purpose, and this is light, the power that connects the multitude of creatures to one purpose. (Midbar Shur, 95-96).
This is a wonderful teaching for Diwali and for the new year, affirming our inter-connectedness in the light of God.
May our work in interfaith be a work of Divine Light.
Category:

Tags: