The Elijah Institute and Guru Nanak Dev University
Interreligious Training Program for India
Towards a Future of Knowledge, Understanding and Interreligious Collaboration
At Nishkam International Centre, Amritsar
November 27th – December 3rd, 2010
Introduction:
Elijah's vision of 'sharing wisdom, fostering peace' was advanced significantly in December 2010, when the first 26 graduates of our Education Network's Interreligious Dialogue Training program completed their seminar in Amritsar, India. The Educational Network's India Training Program was designed to implement and develop the Educational Network in India, as a key component of a planned global educational initiative.
As a result of the call of the Elijah Board of World Religious Leaders at their meeting in Amritsar in 2007 for religions to 'offer their finest teachings as a resource to guide humanity to safe harbour', Executive Director, Alon Goshen Gottstein, and Director of Educational Activities, Peta Jones Pellach, developed the work of its Educational Network and designed its India Training Program. This project brought Elijah back to Amritsar with a program that engaged religious leaders, academics and interreligious activists from across India and inducted them into the world of interreligious dialogue and sharing of wisdom.
Participants gathered for an intensive week of study of sacred texts, personal reflection, interaction with religious leaders from Elijah's Board and from our scholars, acquiring skills and making new relationships. They were drawn from twelve universities and represented Muslim, Buddhist, Hindu, Christian, Sikh, Jain and other local religious traditions. They spoke Hindi, Punjabi, Tamil and English and came from major cities and small villages, from Kashmir to Kerala to Madurai, travelling up to three days to join the program. They focused on a common endeavour and completed their week transformed through knowledge and challenging experiences.
The following pages describe the program and its participants and draw conclusions about its effectiveness and its expected impact on the communities from which participants were drawn.
The Participants:
Name
Religion
Institution
Pravin Bhimrao Khandare
Buddhist
Mumbai University
Ven. Gyanaditya Shakya
Buddhist
University of Delhi
Rev. Samuel Rajadurai
Christian
Centre for Social Analysis,
Tamilnadu Theological Seminary
Rev. C. Thankappan
Christian
Tamilnadu Theological Seminary
Fr Robin S.Seelan SJ
Christian
Jnana-Deepa Vidyapeeth
Jayan Joseph
Christian
Madurai Kamaraj University
K.Ravikumar
Folk Religion
Madurai Kamaraj University
Rajpal Singh Negi
Hill Tribes Hindu
HNB Garhwal University
Neelam Negi
Hindu
HNB Garhwal University
Gurdeep Singh
Hindu
Kurukshetra University
Shiv  Kumar
Hindu
Kurukshetra University
Kamladevi Kunkolienker
Hindu
PES' SRSN College of
Arts and Science
Krantigeeta C. Bhosale
Hindu
University of Pune
P. Guhendran
Hindu (Tamil)
Madurai Kamaraj University
Sivagnanam Jeyashankar
Hindu (Tamil)
Eastern University, Sri Lanka
Pradyumna Shah Singh
Jain
Punjabi University
Sudha Pandit
Kabir Panthi
University of Pune
Afroz Ahmad Bisati
Muslim
Islamic University, Kashmir
Hamidullah Marazi
Muslim
University of Kashmir
Gurbachan Singh Bachan
Sikh
University of Mumbai
Ran Singh Dhaliwal
Sikh
Punjabi University
Sukhwinder Singh
Sikh
Guru Nanak Dev University
Apinder Singh
Sikh
Sikh History Research Board
Bharatbeer Kaur Sandhu
Sikh
Guru Nanak Dev University
Joginder Singh
Sikh
Guru Nanak Dev University
Dr. Manvinder Singh
Sikh
Guru Nanak Dev University
Student observers:
| | | |
| --- | --- | --- |
| Samrath Kaur | Sikh | Guru Nanak Dev University |
| Satwinder Singh | Sikh | Sikh History Research Board |
| Jorawar Singh | Sikh | Guru Nanak Dev University |
| Balwinder Singh | Sikh | Sikh History Research Board |
| Perminder Singh | Sikh | Guru Nanak Dev University |
Visitors/ senior participants:
Surjeet Kumar Singh
Buddhist
Mahatma Gandhi Uni. Wardha
Sukhbir Singh
Sikh
Guru Nanak Nishkam
Sewak Jatha UK
Opening Night, Saturday 27th November, 2010.
A welcoming ceremony that included greetings by  Mr Sukhbir Singh, (Guru Nanak Nishkam, UK), on behalf of the Nishkam International Centre and Bhai Sahib Mohinder Singh and a Sikh Welcoming Prayer, performed by local school children.
Other messages were delivered by Sikh leader Singh Sahib Giani Gurbachan Singh, Jathedar, and representatives of  Guru Nanak Dev University, Dr. Shashi Bala, Dean Dept of Religious Studies and Dr Balwant Dhillon, co-host of seminar.
Opening remarks were delivered by Dr Alon Goshen-Gottstein (AGG), Executive Director, the Elijah Institute, followed by introductions of participants and sharing of stories, an activity conducted by Peta Jones Pellach (PJP), Director of Educational Activities.
The evening concluded with a Havdalah ceremony, conducted by AGG, the ceremonial 'separation' between the sacred and the profane, marking the start of the new week and a new venture.
Additional visitors in attendance: Shrivatsa Goswami, Bhikkhu Sanghasena, Fr John Chathanatt SJ.
All participants strongly agreed that the opening ceremony was appropriate and enjoyable and that the introductory exercises were a good way of meeting the group. They commented that the program was innovative and set a good tone.
Day 1 – Sunday 28th November, 2010.
Themes:
Introduction to the World of Dialogue; focus on Christianity.
Program:
Morning contemplation (led by Christian participants)
Self-reflection – completion of questionnaire, to be revisited at end of seminar
Leaders reflect on the place of dialogue in their religious lives – Shrivatsa Goswami (Hindu), Bhikkhu Sanghasena (Buddhist), Fr John Chathanatt (Christian), Sukhbir Singh/ Balwant Dhillon (Sikh), Alon Goshen-Gottstein (Jewish). In two parts – morning and afternoon session.
Introduction to World Religions and the world of interfaith dialogue – Powerpoint presentation with explanation and discussion.
Fundamentals of Christianity – presented by Fr John Chathanatt SJ
Introduction to working with sources – basic guidelines and questions that need to be asked
Hostility to Hospitality – Christianity unit – work in small groups followed by feedback session.
Skills development – 'The Meaning of Real Dialogue'
This was a packed day, leaving participants exhausted yet energized. Their 'complaint' was that there was not enough time in the day to absorb all the new information and skills presented to them.

Monday 29th November, 2010.
Themes:
The Dialogue Scene in India; Incorporating the Religious Leader into the Program; focus on Hinduism.
Program:
Morning contemplation, led by Hindu participants
Exercise and skills development – the Dialogue scene in India.
This exercise involved participants taking a stand on a number of statements and defending their positions. It resulted in some fascinating discussions and revealed vast differences in the opinions of participants.
Panel presentation (Shrivatsa Goswami and Father John Chathanatt) – How interfaith dialogue can benefit India. Fascinating insights. Responded to participants' views and added the perspective of leaders.
Fundamentals of Hinduism, presented by Shrivatsa Goswami.
Hostility to Hospitality – Hinduism unit – small groups followed by feedback to whole group.

Evening Activities:
Skills Exercise – non-verbal communication. This exercise involves a game in which participants choose a non-verbal sign for themselves and are required to remember their own and others'. It teaches observations skills.
Skills Exercise – 'Nine Rules for Effective Dialogue' – reading and testing rules.
Tuesday 30th November,
Themes:
Leadership Skills/ the skilled moderator; Focus on Islam
Program:
Morning contemplation – led by Muslim participants
Fundamentals of Islam – Presented by Professor Timothy Gianotti (by Skype video link)
Hostility to Hospitality – Muslim unit – small groups followed by feedback groups
Introduction to the use of case-studies and tool of role-play
Visit to Guru Nanak Dev University – small group exercise with students, practicing dialogue moderation skills.
Discussion on Openness and Identity led by Alon Goshen-Gottstein.
Visits to places of worship – Catholic Church, Hindu Temple, Mosque.
Participants' comments:
'Prof Timothy did a nice job by highlighting that the spirituality is the essence of Islam. He was also very honest when he answered the question about women in Islam.' Timothy Gianotti was acknowledged as an excellent teacher. Skype proved an invaluable tool.
Wednesday 1st December, 2010.
Themes:
Fundamentals of Sikhism; Reflection on places of worship and the role of prayer; introduction to the Elijah website.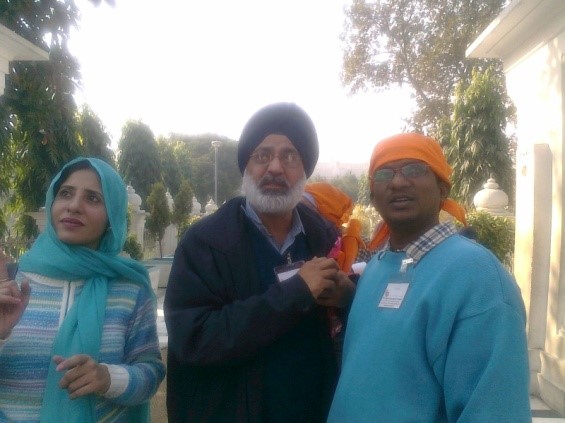 Program:
Contemplation – visit to Sikh school to observe children in prayer
Visit to the Golden Temple, including presentation of ceremonial scarves, the Temple itself, introductory lecture, the Langar (provision of food to visitors), food preparation and stores, Temple grounds.
Panel on the Fundamentals of Sikhism (Bhai Sahib, Mohinder Singh, Blawant Dhillon)
Discussion on the places of worship and the role of prayer.
Introduction to the Dialogue Decalogue (Swidler) and exercise in pairs preparing rules for good dialogue
Hostility to Hospitality – Sikh unit – small groups followed by feedback groups
Introduction to the Elijah Website
Participants' Feedback:
The Golden Temple and activities were a highlight of the program.
The sessions analyzing worship and explaining successful dialogue were very useful.
Thursday 2nd November, 2010.
Themes:
The Elijah Method and educational philosophy; focus on Buddhism
Program:
Contemplation led by Buddhist participants
Exercise – 'In the Fishbowl' – leadership and dialogue skills
The place of Elijah in the world of interfaith (continuation of Powerpoint presentation from day 1)
Fundamentals of Buddhism – presented by Khandro Rinpoche by Skype video link
Hostility to Hospitality – Buddhism unit – close reading of the essay
The Elijah Method – close reading of the Metholodological Guide
The Elijah Method – compilation of 'tool-box' – various dialogue methods
Encounter with Elijah scholars, member of the Elijah think-tank – by audio link. Participants: Timothy Gianotti, Maria Habito Reis.
Friday 3rd December, 2010.
Themes:
Taking the process home; focus on Judaism
Program:
Morning contemplation, led by AGG
Introduction to the Fundamentals of Judaism
Hostility to Hospitality – Judaism unit – brief survey of issues
The Fundamentals of Jainism – a brief introduction
Workshops on taking the process home – in regional groups, followed by feedback. This was a powerful exercise, as participants grappled with the challenges of translating their learning at the seminar into practical action in their local communities.
Optional outing to border with Pakistan – (in response to participants' requests)
Closing dinner – Shabbat – traditional Jewish Friday night dinner
[On this page I will be placing a lot more quotes – but waiting for more responses from participants. ]
I enjoyed the seminar in Amritsar – the week was a positive experience for me, personally.
Comments: I would agree more than strongly. It was a wonderful experience both at personal and academic level.