October 2008 Issue
Dear Friend of the Elijah Interfaith Institute,
It is our pleasure to present you with the latest issue of our Wisdom e-newsletter. Inside you will find:
News Update: Elijah Leaders React to Current Economic Crisis

News Update: Elijah Mourns the Passing of W. Dean Mohammad

News Update: New Website Released–Elijah Leaders and Scholars Inspire 'Love and Forgiveness'

Sharing Wisdom: Response Statement of the Elijah Board of World Religious Leaders
If you have trouble viewing this newsletter in your email browser, please click here (https://elijah-interfaith.org/index.php?id=868) to see it online.
1. News Update: Elijah Leaders React to Current Economic Crisis
At a time when the whole world is going through rapid and painful changes, members of the EBWRL wish to offer their modest contribution as an expression of support and encouragement. A recent statement drafted by scholars of the Elijah Interfaith Academy, has been endorsed by the steering committee of the EBWRL and is currently circulating amongst board members. This statement is found below in the 'Sharing Wisdom' section of this newsletter and on our website (https://elijah-interfaith.org/869/). In an attempt to engage our readership, we invite you to share any comments, responses or discussion that could emerge from this statement through a dedicated forum on our website.
We encourage you to join the conversation at this time as registration for the site is still free, prior to our official launch of the new website. Please register at https://elijah-interfaith.org/?id=13. After the registration process, you can participate in the Communities forum: https://elijah-interfaith.org/index.php?id=748.
2. News Update: Elijah Mourns the Passing of W. Dean Mohammad
Imam W. Deen Mohammed was born Wallace D. Muhammad on October 30,
1933 to Elijah and Clara Muhammad. His birth coincided with his father's acceptance of the leadership and formation of the Nation of Islam in America, and this "coincidence" of timing conferred upon Wallace special status as the heir apparent to his father. As he matured, that status was often questioned as he disagreed with his father's concept of G-d and many of the Nation of Islam practices and beliefs.
However, on February 26, 1975, a day after the passing of the Honorable Elijah Muhammad, at the Nation of Islam's Annual Convention Imam Warith Deen Mohammed was unanimously selected and elected to succeed his father as the leader. Even in his acceptance speech, Imam Mohammed began to transform the pseudo-Islamic, black nationalistic and segregated organization into a legitimate Islamic Movement, embracing the Absolute Oneness of G-d, the Finality of Prophet Muhammed, the acceptance of all the Prophets, the oneness of humanity and the freedom of religion. He led the introverted and secretive organization of 250,000 to become an open and transparent community of Muslims and an association of Mosques that grew to include well over 1,000,000 people world-wide.
He established Jumah prayer nationwide in America, led the largest group of Muslim Americans on Hajj and encouraged Muslims to be responsible in upholding their civic duties, as well as rights, in the United States. He promoted and actively engaged in interfaith dialogue and relationships between people of all faiths. He served on the boards of the World Conference of Religion and Peace, the Parliament of World Religions, the Elijah Interfaith Institute and the Muslim World League.
He said, "The time to see each other as enemies is out. We must be pleased to see good Christians being good Christians, good Jews being good Jews, as well as good Buddhists, Hindus and any others who believe in Goodness and who invest in the good of the human being, we must be pleased with them and support their good works."
Imam Mohammed was a frequent and prolific speaker on college campuses, at peace and interfaith gatherings, and among all types of religious communities, worldwide. He leaves a legacy of deep spirituality, human sensitivity, scriptural insights, scientific curiosity, economic development, religious obligation, international brotherhood, interfaith immersion, decency, humor, affection, sincerity, commitment, and peace.
He will be missed by many but forgotten by few.
"O Allah! Whoever You grant to live from among us, cause them to live as Believers. And whoever You cause to die from among us, cause them to die as Believers, and grant them the best of Paradise."
Obituary composed by Imam Plemon El Amin, Atlanta
3. News Update: New Website Released–Elijah Leaders and Scholars Inspire "Love and Forgiveness"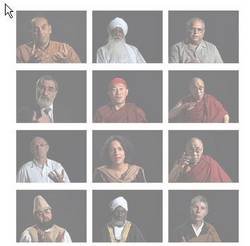 We are delighted to announce the release of a special website featuring the wisdom of leaders and scholars of the Elijah Board of World Religious Leaders (EBWRL) and the Elijah Interfaith Academy. Taken in Amritsar at the last meeting of the EBWRL, this website is dedicated to the theme of Forgiveness. It is part of the ongoing work of the Fetzer Institute, who supported the creation of this website. The website features video interviews, and can be searched by religion, name of lecturer and key questions and themes relevant to forgiveness. It is thus a first-rate resource in the teaching and reflection upon forgiveness. The website can be found at http://www.loveandforgive.org/video/.
4. Sharing Wisdom: Response Statement of BWRL
The past weeks have seen dramatic developments in the worldwide financial systems. The world's attention is riveted to the changes in the stock markets, amid increasing fear and insecurity relating to the stability of global economy and the fate of individuals and nations. We the undersigned, leaders and scholars of multiple religious traditions, wish to bring the following message to the attention of the public, as it struggles to make sense and come to terms with rapidly changing financial realities:
1. Every crisis is an opportunity and contains within it the promise and hope of new beginnings. We therefore encourage all to examine what possibilities for the long term good and wellbeing of our world may emerge from this situation.
2. The present crisis highlights the unity and interconnectedness of all humanity. We live in one, interconnected world. No group or society has the luxury of considering itself beyond the present crisis or immune from it. Our deep interconnectedness is itself a spiritual lesson that should inspire us to appropriate action.
3. Awareness of this interconnectedness leaves no room for the scapegoating of religions, of regions of the world or of any large social or national group as responsible for this crisis.
4. There is, however, room for healthy reflection upon life, its values and the spiritual and moral ills that have led to the present crisis. As these ills are found in all societies, and as they are basic to human nature, we encourage an attitude of positive self-criticism and the attempt to improve ourselves as individuals and societies, rather than blaming and scapegoating of others.
5. Our interconnectedness should find expression through a sense of mutual responsibility for the welfare of society and the world at large.
6. In particular, this moment of economic crisis calls for care and responsibility towards the most vulnerable members of society, the poor, who stand to suffer the most from dramatic changes in world economic structures.
7. Care and responsibility should also characterize our activities in the local and global marketplace. We recognize that the world of business and commerce is a battle ground for spirituality, where moral and spiritual values are tested constantly. We are thus invited to reflect upon the moral ideals that should govern our business conduct and act accordingly.
8. When seeking ethical guidelines, we should recall the principle of the common good. Our actions should seek to increase not only our personal wellbeing, but should be weighed in light of their broader consequences and their contribution to the common good.
9. One of most fundamental weaknesses of human nature is greed. The present situation makes manifest the harm to the individual and society brought about by greed and unbridled ambition, especially as it is institutionalized and becomes a fundamental component of our economic structures. We are united in our ongoing struggle against the vices of human nature and recommend the wisdom of our traditions as tools to combat the weaknesses of human nature. Our different religious traditions offer important teachings on the metaphysical and psychological roots of greed.
10. The present situation leaves many in a state of insecurity. Painful as it is, the present moment also reminds us that we cannot fix our hopes for a happy and fulfilled life entirely upon material success and stability. Economic fluctuations teach us how unreliable the material field is as a source of hope and stability. The fullness of human existence cannot be attained through the marketplace. We are thus called once again to discover the balance between the material and spiritual life.
11. The message we seek to deliver is a message of hope. Adversity leads to awakening and to deeper insight. The present situation holds potential for rich insight and should therefore fill us with hope. It reminds us of our interconnectedness, purpose and resources. It allows us to recall our spiritual ideals and moral values and to put them into action. It also reminds us that in fundamental ways the world's great religions agree in their view of life and in their recognition that hope resides beyond the material world. Such common vision is itself a source of hope and an invitation to advance towards the goal of fuller human existence.
12. Our prayers and sincere intentions are with all people, and we watch the unfolding events with care and concern. We encourage all to consult the resources of traditions in facing adversity; we are available to offer our best advice on the basis of our traditions and we remain on hand to react to future events, as they unfold.
Steering Committee of the Elijah Board of World Religious Leaders
Scholars of the Elijah Interfaith Academy Think Tank
The Elijah Interfaith Institute

Phone: +972-2-672-9276 , Skype: adminelijah

P.O.B. 4069

Chopin St.

91040 Jerusalem

Israel


The Elijah Interfaith Institute is a 501© (3) organization. All donations are US tax-exempt.